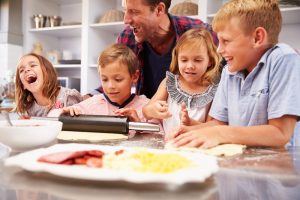 Kids get hungry – a lot. Parents have got the task of figuring out what to cook, what to buy, and then doing the actual grocery shopping. Then, there's the worry about preparing each meal, and tending to everyone's particular tastes. (Let's not even get started on the picky eater crisis.) The toughest part? You're flying solo on this.
Solo Nation, you need a plan – a meal plan, that is.
A meal plan will get you organized. It will streamline meal preparation. It'll give you guidance on what to cook and when, which can (bonus!) help you plan out the rest of your day and week. Simply put, having a plan will keep you from losing your mind.
Start the process off right by:
     Browsing through parenting magazines and blogs for helpful tips. You can find recipe ideas and tips on cooking, and storing leftovers. You may even find free cookbooks available for download.
     Creating the meal plan with your kids. This gives them the opportunity to offer their input on what you guys should eat. They can also help you avoid repeating meals too close together.
If creating an entire meal plan on your own freaks you out, don't worry. You can find a bevy of meal plans online (some even for free!) The Money Saving Mom blog covers the entire month, and includes fun snacks and meal ideas that are easy and inexpensive. Sites like emeals.com and myrecipes.com create customized meal plans to fit your specific needs and preferences.
Focus on creating a weekly meal plan in the beginning so that you don't get overloaded right away. For easier planning:
        Check the weekly circular/sales paper for your local grocer. A great way to plan your meals and save money is to come up with ideas according to what's on sale.
        Make out grocery shopping list as you create meal plan. This will virtually guarantee you don't forget any necessary ingredients, or buy too little or too much of a particular item.
        Try to limit your grocery shopping to once a week. Generally, you spend less money at the store when you make infrequent trips. It's also a big time saver.
        Include one of the family's favorites meals at least once in that week. This helps makes your family mealtime with them special.
        Include a "leftovers" night in the schedule once a week. This trick frees up a day of cooking, and that's one less day of food you have to spend money on.
        Find recipes that only have a short list of ingredients. Hello, easy shopping! Easy prep, easy cooking, too! (Grilled salmon is a great example.)
To free up some time later down the line, make a large batch of one of your kids' favorite dishes; freeze the rest, then have it again a few weeks later. Don't forget to put your slow cooker to work.  Meals like pot roast can be enjoyed with almost no effort from you. It's your virtual cook – use that sucker 'til the wheels (or controls) fall off.  Save the "big" meals like casseroles, pulled pork, or Italian stuffed shells for earlier in the week when the kids are home so they can have it again on "leftovers" night.
Keep meal planning playful, and make fun foods, or foods you eat with your hands. Some kid-friendly ideas include: quesadillas, homemade pizza, mac & cheese, chicken & waffles, hoagies, flat breads, tacos, and spaghetti & meatballs.  Throw in some tasty desserts.
Mix it up by making some desserts from scratch (like strawberry shortcake) and buying a pre-made dessert from a local bakery for a special occasion like…report card day! Or your pre-teen's first date.
Nothing says home more than a home-cooked meal, Solo Nation. It's so important to make your kids feel at home when they are with you, so up your skills in the kitchen and reap the healthy, happy rewards!