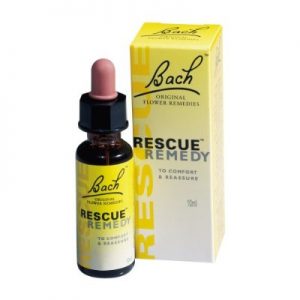 Have you ever taken a feisty two-year-old kid on an international flight—by yourself? During the day? Without giving that kid a serious dose of Robitussin?  I have. And I survived. I was even lauded by our seat mates afterwards. "She was SO good!" a business traveler beamed. "How did you do it?"
Two words, people. Rescue Remedy. If you don't know what Bach's Rescue Remedy is, pat yourself on the back for reading this article, because, well, now you know. If you do know what it is, pat yourself on the back for being a wise, wise individual. For this is the stuff of easy transitions and no-fuss car rides. This is the elixir to make sleepy time even sleepier. This is the tonic that parents all over the world give their kids when they need ease and peace and no tantrums. Then they dose themselves and call it a day.
In a nutshell, Rescue Remedy "is a blend of five Bach Flower Remedies especially beneficial when you find yourself in traumatic and stressful situations," says the company's website. It is a blend of flower essences which Dr. Edward Bach, a British homeopath, bacteriologist and writer developed to treat nervousness in the early 20th century.
I was first introduced to it by a veterinarian who had used it with dogs experiencing separation anxiety. And yes, it worked to calm my quaking puppy dog, so I was pretty clear that it wasn't a placebo. When I became a mom, I used it on my very active kid to help quell her desire to climb the seats of the airplane. When I became a solo mom, I used it on myself before I walked into the court room. It helped.
Rescue Remedy comes in alcohol or non-alcohol based droplets, spray or gummy pastilles, and is non-drowsy, non-narcotic. It's trusted enough to be sold in apothecaries in Europe, and can be found in health food stores or integrative pharmacies in the States. It has no side effects, and those sensitive to alcohol can use the non-alcoholic formulas with as much success as the standard bottles. Moreover, it's a non-habit-forming alternative to sleep aids. And it works.
So, solo nation, you heard it here. Get a bottle, heck, get one for the car. Your life just got a little easier.