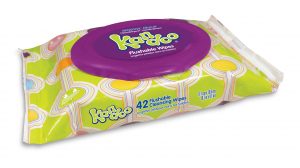 Nothing says childhood like a trip to the ballpark. Nothing like a mob of people eating, yelling, drinking, and jostling each other to bring out the child in this solo mom, too. Gone were the visions of quinoa and kale for lunch. A Dodgers Dog was demolished. Cotton candy was had. It was blue. It was sticky. Out came the Kandoo wipes to get the mess off the sensitive cheeks of the five-year-old fan. Then came peanuts, a forbidden soft drink, the whole nine yards. And right before the 7th-inning-stretch, a run to the bathroom that could have been even messier than the cotton candy explosion. But the Kandoo wipes came to the rescue– the girl was cleaned up and ready to cheer for her team again.
These "flushable" wipes are really soft, though they do have the tendency to tear as they are pulled out of the package. That's almost comforting, if you've heard (as I have) that flushable wipes are not breaking down once they're flushed. These claim to be septic safe, and I believe them. They do the job, however, and when there's a line of impatient fans tapping their toes outside of the stall, quick is the name of the game. Very easy on sensitive skin, hypoallergenic, and they got all the messes– whether stinky, gooey, sticky or blue– cleaned up.
I've found that I've been running around with a package of them in my purse, and I've found that I'm always glad that they're on hand.