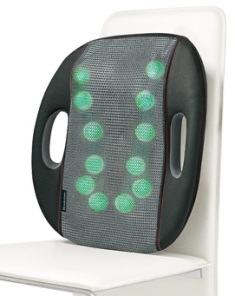 "Oh no you didn't," I said to myself as I lugged the box to the car.
"Oh yes you did!" I said to myself as I sat in front of Netflix that night and got a massage– AT THE SAME TIME.
Solo parents do a lot of heavy lifting. There's a joke out there that talks about how parents' arms get longer from carrying all the stuff we need to get through the day. For solos, it's not so much about the arms, it is all about the back. Lifting, lugging, schlepping, rushing. Not to mention the bending down. Don't get me started on bending down– to clean the sludge out of the bottom of the fridge, or scrub the bathtub. Bending down to tie shoelaces, pick up stuffed animals, lunchboxes, little bits of rice from under the dining room table.
And if we had time to get to the spa, we would. We would spend the day in spa. The whole weekend, if we could.  Padding around in fluffy robes, sipping water with floating rounds of fruit sliced wafer thin, the tinkling of waterfalls lulling us into a blissful dream state.  If anyone wants to know what I want as a present for every birthday for the rest of my life? It's a gift certificate for a massage.  (September, people.)
But unless you have those gift certificates lining your sock drawer, the trips to the spa are not forthcoming. And your back still hurts. Your kid might give it a little rub at story time (and it does NOT get any better than that), but those butterfly touches are not Shiatsu, babe. And we got some knots that need working out.
That's where a portable back massager by Brookstone comes into the picture. This reviewer liked the 3D Back Massager, after testing almost every model in the store (do this. do this.). It fits on the back of the seat of nearly every chair or sofa you could imagine. It can be propped up in bed as well. It needs to be close enough to an outlet to provide power, but then, you're in business.
The pressure is pretty rigorous, and there can be a little bit of crunching as the massage motion travels over the scapula, but if you've got a little cushion on your bod, you might not feel as crackly as this bony mama does. Lean back more, get more intensity. Sit with less contact, and you get gentler kneading. We don't recommend it to be used by small children– it's too powerful for tender bods.
There are two directions for massage on the 3D model, which allows you to experiment with more upper-back contact, or lower back work. The machine automatically turns off after about 20 minutes, so you can decide whether to take a break from your massage before Scandal hits a high point.
And here's the real seller: it costs $119 retail. That's as much as a single massage sesh in some high-end spas. And as long as you've got electricity flowing, you've got Shiatsu, baby!
Solo Parents say: worth it. Your back will love you.