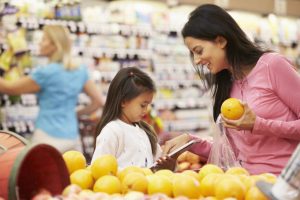 We all start out with good intentions. We organize the cabinets and buy things when they are on sale so we can save money, yet always be stocked up on groceries. Then the inevitable day comes when you can't fit anything else in the pantry, but you can't find anything you really want to cook. Pantry organization is key when making sure you find what you need, but also always know what you already have so you aren't stocking up on the wrong things.
As a single parent, organization is sometimes the key to sanity, even when it comes to pantries.
Prepare Meals in Advance
If there is one thing every single parent is lacking, it's time.  You can save yourself some time when you plan your meals. Save one shelf in your pantry for meal planning. You can gather the materials you need for the meals you plan to cook all week long and divide the materials as needed. Use bins to hold all the ingredients you need for each meal, combining as many dry ingredients as possible in a storage bag. Store the recipe in the bin as well. When you're ready to cook the meal, simply pull the bin out and add the rest of the ingredients. This is a great method for saving time, but it also helps you stick to a budget by planning your meals in advance.
Tip: This method works well to help children practice things like using a measuring cup. They can measure the same ingredients for several recipes. This helps them focus on the measurements rather than the materials being measured, like flour or sugar.
Lose the Air
Dry foods like cereal and chips are often packaged with a lot of air to prevent them from being damaged while they are transported. This air takes up a lot of space. Empty dry goods into storage containers so you can always have the same items organized in your pantry, but you aren't wasting any room. This is also a great way to avoid the "but it's not the right brand" argument because the brand isn't visible.
Post a Shopping List and Notes
No pantry is complete without a shopping list. Install a white board on the door and attach a dry erase marker to it with a string. If you don't have a white board, place a piece of paper in a picture frame and use the glass on the frame. You can also use clear sheet protectors, which have the obvious advantages of affordability as well as easy installation and removal. Just hang the sheet with a tack and remove it when it's time to go shopping. If you're trying to keep track of what you use and don't use so you can stop buying things that go to waste, be sure to track your meals on this sheet. You can also snap a photo of the list and pull it up at the store.
It can be helpful to take inventory of the pantry and create a document that lists what you have. Place the document in a sheet protector and mark things off with a dry erase marker as you use them. This way you can always see exactly what you have and what you really use.
Hang Multiple Items
Are you taking advantage of all the space you have? Most people aren't. Here are some inexpensive and easy ideas to use for hanging items in the pantry even if you aren't much of a handyman.
If you don't have any rods in your pantry, you can make them with some CPVC pipe and a couple of nails. Just cut the pipe to length and install two nails or screws where each end of the pipe will meet the wall. Make sure the nails or screws are close enough together to fit inside the pipe. Then, just slip each end of the pipe over the nails. It's flexible enough to bend in place to install it and you can also paint it to match everything else.
Purchase several "S" hooks to hang on the pipe. Now you can hang sandwich bags from the hooks. You can also use slacks hangers to hold bags of chips and other things that you want to seal as you hang them. You can install hooks, magazine racks, bags, doorstops, or a shoe organizer on the inside of a pantry door to hang things from.
For smaller items, put a screw through the bottom of the lid of a jar and secure underneath a shelf, so it's hanging. Screw the accompanying jar to lid and unscrew it as needed. This is a great way to view what you have, have easy access to it, and avoid taking up shelf space. You can use anything from baby food jars to Mason jars.
Warning: The more organized and efficient your pantry is, the more you'll want to organize the rest of the house to make it more efficient! It's addicting and can lead to things like cleaning out closets, toy boxes, desks, and cabinets.