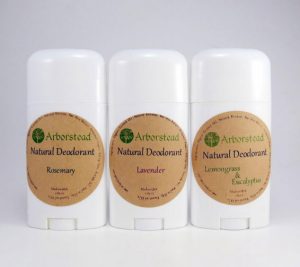 "Deodorant?" You might ask. "WTF? I got it covered. Buy it at the drug store."
Good on ya. Glad you smell great. But did you know that the aluminum compounds found in over-the-counter antiperspirants and deodorants have been linked to confusing results in breast cancer studies? Confusing because some tests say: yes, antiperspirant use is linked to breast cancer, some say, well, maybe so, but we're not going to take it off the shelf.
Wanna risk it? We all have our day-after-the-garlicky-shawarma-binge stinkathons. We also have the days in the office wearing that light blue blouse that shows every drip of perspiration. But the days we are working at home, or puttering around the garage– do we need to slather on the toxins?
Solo Parent's Secret Weapon Agent Testers (SWAT, people) tested a product called Arborstead Natural Deodorant, coming at you out of Harrison, Idaho. A ballroom dance instructor and his partner wanted to create an alternative to grooming and home-care products that contained toxic ingredients. We wanted to see how far their boast of "Go Stink Free" actually went. Ingredient list looks like this: organic coconut oil, natural beeswax, raw shea butter, arrowroot powder, baking soda, avocado oil, kaolin clay, and essential oils. Yum!
The selection of scents we had to choose from was promising.
Bergamot & Black Pepper
Ginger & Lime
Lavender
Lemongrass & Eucalyptus
Patchouli & Clove
Patchouli & Ylang Ylang
Rosemary
Sage & Juniper
Woodland Pine
We chose everything but the Lavender (yawn), Patchouli and Clove (ouch), Rosemary (dunno), and began testing. Here's what we found:
Packaging and look: Minimalist, slightly DIY, but we found that endearing.
Product feel: Smooth on the skin, like a regular stick deodorant. Y'know? Maybe smoother. Does not sting after shaving.
But does it work: Our female testers are known stinkers and sweaters. We tested this stuff every which way and sideways. Sweating away on deadlines at our SoCal computers, running around solo parenting small children, jogging in nature. We were working out hard at the gym, working out hard at the gym after a night of sweaty sex with no shower in between (oh please, you've done it too). We embarrassed ourselves sniffing our pits in every situation (yep, even mid-coitus – thanks to understanding partners — who also gave this stuff the thumbs up) and were hard-pressed to find any certifiable stink. In short, we are converts.
Our recommendation: This deodorant works even better than the cancer-causing toxic stuff we're used to. It's not an antiperspirant, so your pits will sweat (as they're actually meant to), but you will, in fact, go stink free – naturally. Moreover, the prices are reasonable (9 bucks. Worth. It.) and they ship almost anywhere in the world they are allowed to.
We can't wait to try some of the other products sold by this enterprising company, such as lip balm (we did try this – so smooth and natural everyone should have some in their purse), body scrubs, toothpaste, mouthwash, baby powder, toothpaste and some home care items like natural wood polish and wool dryer balls.
Solo Parent's SWAT gives it the nod.
For more information: www.arborstead.com