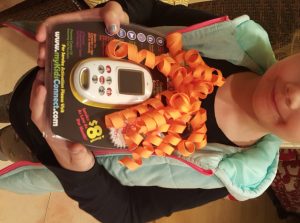 If you're looking for a simple way to keep in touch with your child–and even track where she is at any given time– check out this very simple phone that packs a punch. KidsConnect (www.myKidsConnect.com) makes a phone with pre-programmed buttons for the easiest phone calls possible. And it's cost-effective! $12.95 a month gives 100 talk minutes and unlimited GPS tracking. It's $8.33 a month if you buy a year plan at $100.
"As a single parent with a divorce situation, it allows a kid to make a phone call, even if they're too young to dial a phone number," says Co-Founder of KidsConnect, Michael F. Dean. "It helps keep parents in touch with their kid," even if one parent is not willing to help the other parent stay in contact.
The GPS system allows parents to see where their kids are– both near and far. By drawing a perimeter around the house on www.mykidsconnect.com, mom or dad can track if the child has left the block. A text comes to the adult's phone to provide an alert if the child has wandered off. Plus, there are three days of location history on the app so parents can know where their kids have been.
An SOS button allows a child to dial four pre-programmed cell phone numbers, which will receive a text to alert them to an emergency. Perfect for the solo parent who is concerned about their child's ability to communicate in an emergency.
Moreover, the parent's phone can activate the GPS remotely, or even monitor what's going on around kids by using a feature that allows a parent to hear what's happening in the kid's surroundings.
The simple features are good for autistic and challenged kids as well. This phone can be used by teenagers who are restricted to limited access (because they're, uh, grounded!) but need to be able to stay in touch with family members.
Other perks? The "family calls" safety feature insures that only numbers listed in the phone can get through. "School mode" keeps the phone from ringing at certain hours– kids can still call in an emergency, but calls to the phone would be mute. "SOS" feature allows kids with allergies or health problems can hit the SOS button and be patched through to a health center.
Little ones can wear a lanyard and have the phone available for them at any time. It's about the size of an old-school pager, but so much more effective. An excellent tool for the solo parent who wants to stay in touch with– and keep track of– their children.