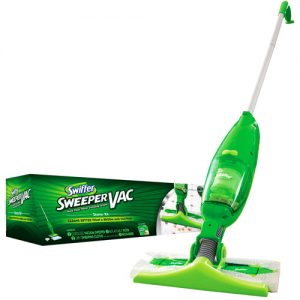 We all know the Swiffer commercials – that amazing couple Morty and Lee, the elderly banterers who get a box of Swiffer products left on their doorstep and their lives magically change so much that they end up dancing on their newly cleaned kitchen floor. Or the one-armed dad who cleans the ceiling fan and wrestles with his kids…
But as always, the question remains: do these products actually work?
Sure, the Swiffer Wet Jet is a great product. I use it, but not as often as my Shark Steamer, because I'm trying not to give my dogs cancer by licking their little paws after running across a chemically infused floor. Swiffer dusters are amazingly clingy suckers that eat dust off surfaces, fans and blinds, but end up being pretty pricey over time.
I am, however, an incessant proponent of the Swiffer SweeperVac. I say "incessant" because there have been times in my life when I wouldn't shut up about it. I've purchased them as thank you presents for friends who've let me stay at their houses. I've given them as housewarming present. I've given them as birthday presents. I'm a little loopy for the Swiffer SweeperVac.
Because this little, lightweight dream is the BOMB.
The Swiffer Vac costs just under $40 and will save your life if you have children and/or pets. It's not your only vacuum, but it is your daily vacuum. It sucks up pet hair like a zombie going after brains, and swivels with ease to get into corners and under furniture. Dust bunnies be warned: your days are numbered.
Best of all, this is a rechargeable puppy, which means that when you need it, it's ridiculously lightweight and cordless. Just unplug, do a once-over, and plug back in. Done and done. With two dogs and a kid who manages to crumb up every room he enters, the Swiffer Vac is my saving grace between deeper cleanings.
From the Swiffer website:
Swiffer SweeperVac cleans the big & small stuff better than a broom and dustpan, even on textured surfaces. That's because it has a power-packed cordless vacuum sweeper for suctioning up crumbs, pet hair, and cereal, combined with a Swiffer dry sweeping cloth that digs deep into grout lines and crevices to pick up finer particles.
Lightweight and compact, SweeperVac works great on virtually any surface in your home. Plus it doesn't require any vacuum bags. Say good-bye to dirt, dust & particles by simply emptying the dirt bin and tossing the dry cloth. It's an amazing, rechargeable, all-in-one tool that gives you a thorough clean.
That ain't no lie.