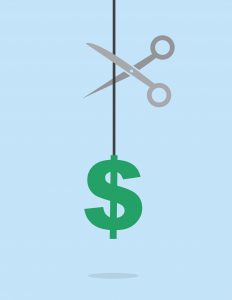 It's over. It's official, there's no going back. You're so confused, you're exhausted, your kids are whacked out of their minds. Who has time to think about finances?
But the time is now, and the person is you. Get your checkbook, get your phone, and get the number for the local branch of your bank. Excellent. Now follow these steps.
1. Terminate joint accounts. Close those joint accounts as soon as possible, because you do not want to be liable for any trip to Jamaica that your ex puts on your joint credit card. Open your own account, if you don't have one. Oh yeah, and while you're at it, change all of your passwords. For everything.
2. Change the beneficiaries on all accounts that you had set up with your ex. This includes insurance policies, IRAs, your will, and any trusts. If your ex was a beneficiary on any account, replace your ex's name with your children's names, and choose someone who can administer these accounts (a sibling, a cousin, a family friend) in case you're unable to.
3. Empower yourself financially. One of the best ways to do this is by seeing how much money you have coming in, and really knowing where and how you spend your money. Get your bank statements and documents in order. The more documentation you have, the easier it will be to prove what belongs to you, should the need arise. If you need help with budgeting, or want to talk with someone about getting out of debt, The National Counsel for Credit Counseling is a not-for-profit organization that has free or low-cost programs to help educate people about their finances. They have a very good debt consolidation program, should that apply to your situation.
4. Build a team to support you. Your bank might have a list of people whom they use as referrals. Other resources include: your local Chamber of Commerce, the Better Business Bureau, Yelp.com, and Angie's List. Get to know the people at your bank branch and find someone you connect with there. Be frank with them: tell them what is going on, and ask what to do next. Get your own accountant. Ask friends who they use, and get a feel for that person on the phone. Meet them in person. If you feel you are being talked down to, or if you don't understand what they are talking about, you have every right to find someone who is willing to treat you with respect. It's your money, after all. Choose a financial advisor. You don't need to have a lot of financial muscle to have an advisor. Your bank has services to help you set up savings and money management vehicles, or else go to a consumer- friendly investment manager, like Charles Schwab, Edward Jones.
5. Make sure that you are getting the child support that you deserve. According to a report from the United States Census Bureau, fewer than half of all parents in the U.S. get the child support that they are owed. Contact your local child support office, or go to this website to find ways to get child support: http://www.acf.hhs.gov/programs/css/resource/how-to-get-child-support
After a separation or divorce, solo parents begin new chapter in life. It's up to us to take the action we need to take in order to empower ourselves around the issues of money and wealth. Start with these five steps, and check back for more tips about planning for your solo future and your children's futures.
Thanks to Matthew Hoffman, Executive Director of Investments at JP Morgan, for help with this article.