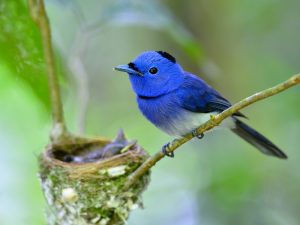 Divorce is a lot like driving down a country road with no headlights – even if it feels amicable there are bound to be surprises and bumps in the road.
Let's face it: if you've made this life-altering decision in the hopes of discovering a healthier path, the process to get there might prove much more daunting than you could have imagined.
Especially the part about the children.
Despite the fact that you were once so in love you could talk for hours about the tomatoes you planted, it's now all about who gets the couch and where the children will reside for what amount of time, and on which days.
You might have the creeping feeling that you're ripping your children from their safe haven of security and derailing their childhood. This is so painful that– given the choice– you'd rather have a backdoor colonoscopy every day for the rest of your life than be forced to figure out this shitty situation.
Ugh.
For some, now is about the time they hatch the "nesting" idea to their ex. Nesting is the concept of keeping the children in a single, central home, while you and your ex rotate in and out at designated times. This arrangement is intended to create the least amount of disruption to the children because, while their emotional lives are still pretty torn at the moment, at least their physical surroundings remain intact.
Rebecca Ramos, of Burlington, Vermont, remembers why she and her ex opted for this unusual living arrangement when they first got divorced. "We didn't want to immediately throw our two daughters into double households," said Ramos. "Nesting provided them a level of predictability and stability as their rooms, house, friends and school stayed the same. We took our [post-divorce] family and brought a different kind of love into the process by nesting. My ex and I set ground rules: we were conscientious of each other and were good communicators during the process."
Right about now you might be scratching your head. How on earth does this actually work?
According to Ramos, you need to have a tremendous amount of respect for one another. "We both changed the sheets for each other, kept the bathrooms clean and made sure there was coffee in the house."
If this sounds rosy, you should know there are a lot of things to weed through when nesting. "Financially, it was a struggle," admits Ramos. "We've sacrificed money for sure, but we knew that hardship would be part of the decision. It wasn't always easy maintaining a house and paying bills with someone you're divorcing. You're still married in some ways but, in a parallel track, you're leaving." The key, explains Ramos, is to show your children that even in the bittersweet moments [of divorce], you can still model compassion and kindness in front of them."
Laura Larson (not her real name), a Connecticut-based writer, nested for about five months while separated. Her children were four and seven at the time when a marriage and family therapist introduced the concept and suggested they try it.
"Because [my ex] was a… developer at the time, he had some empty apartments the two of us could use," Larson said. "So we didn't have any more financial obligations if we did it this way." That being said, Larson thinks this arrangement probably had more cons than pros. "You still have much of the same marital discourse while nesting. Unless you have a staff of 16 to help with all the household things, the issues of actually living in each other's space are definitely still present and can be really challenging."
Larson added that she does think this arrangement is a good option when you have teenagers, however. "Not having to lug sports equipment, text books, clothes, devices and everything else from home to home is definitely a plus during these already tumultuous years." But, she also cautions that, if you feel there's any hope of reconciling, nesting probably isn't a good idea. "You just don't get the needed space – emotionally or physically – that you would to truly work on the [relationship]."
Ideally, nesting would work in the transitional phase of the divorce, when there are no significant others in the mix. Long term, nesting would make dating– and certainly creating a life with a new partner– next to impossible.
Experts on the subject have differing opinions, but one thing they all agree on is that there needs to be a tremendous amount of cooperation and coordination to pull nesting off. And therein lies the problem. Most separated or divorced couples aren't winning any prizes in these departments. Does nesting work for some? Sure. But, even in an amicable divorce, continuing to live in each other's space is a constant reminder of the life you're leaving behind. And that can be reason enough to fly the coop for good.