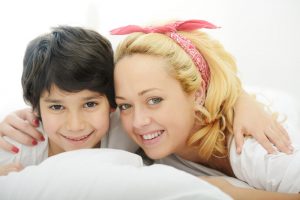 Last weekend, as I lay in bed snuggling with my 9-year-old, about to face a Saturday with few plans and little motivation, my son discovered a new app I'd downloaded while playing on my iPhone.
The app was iMovie.
I had downloaded it for my business the night before while in a meeting with my publicist. I was going to start tinkering around with it to make some promotional videos, so when my son asked if we could make a movie trailer together, I said, "Sure, why not?" I mean, for one thing, it meant a few more minutes in bed snuggling with this little dude who is starting to become too cool for such activities (I was informed today that we are now only allowed to hug and kiss at home, whereas until recently I just wasn't allowed to do it in front of anyone at school). For another, it meant I could actually try to figure out how this thing works without feeling like I'm screwing up a work video.
So we dove in.
It took well over an hour, which, when you're marking time on a Saturday with a kid is pretty substantial — in other words, this is a great time-killer. The functions are, as with most Apple products, completely intuitive and simple. All you have to do is choose a theme (there are 14) and input photos from either your library or your camera to various slots. You add titles that match the theme, a closing credit card which you populate, the music is automatically generated by the theme, and you've got a trailer! Seriously, you cannot screw this up.
My son and I had a blast going through old photos on my phone, and even taking new ones when what we had didn't suit our fancy. I let him be the director, which gave him a feeling of power along the way, and accomplishment in the end. We texted the trailer right from the app to his dad and his grandparents, who thought he was an absolute genius.
My son had so much fun, in fact, that we downloaded the app onto his iPod Touch and he spent another couple of house running around the house taking creepy pictures for his very own haunted house trailer.
We might have a little indie filmmaker on our hands…
The best part? My son and I are making a scrapbook of our life together that will live on, digitally, through the ages.
The other best part? The app is FREE!!