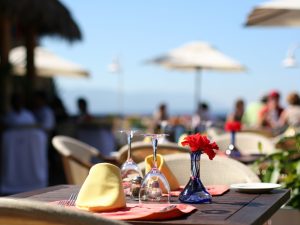 Congratulations! Your date passed your check-out test from the first two encounters and you're pretty darned convinced they could be the one.
Hoooold on there, Mariah Carey. You're not really thinking in those terms. You're not, right?
Sure, you two have a connection brewing, but it happened over a couple of coffee dates. If you're thinking this foxy babe could equal a relationship, you need to switch gears and ride down the path of actual dating activities.
"By the third date, you have to pay careful attention to your date's actions, advises Huston-based Carrie Cole, relationship master trainer for the world-renowned Gottman Institute. "Listen intently to the things he says and watch how he treats waitstaff, uses his manners and remembers bits of information you revealed on the first two dates."
Well, lucky for you, Angeleno, because you live in Tinsel Town – a city where hotel pools are an art form, beautiful boutiques dot the streets in the most adorable neighborhoods, and world-renowned chefs delight in bringing you some of the best fare in the world. There's way more than just a movie on the agenda if you live in a bustling city like L.A..
According to Cole, activities are a great way for a divorced individual – especially if she or he's been hurt, dismissed or discounted in previous relationships – to witness signs of compatibility so that she or he doesn't waste time or repeat old patterns.
Because, the truth is, what you may think is a shiny new relationship could really just turn out to be a gum wrapper. Better to find out now than walk around in a bubble thinking foxy babe is great when, quite honestly, this is someone who really just blows. You with me?
The following third-date activities offer a window into your date's authentic self.
Go for the laughs. Discover if the two of you laugh at the same things and can find the humor in everyday situations. Check out some of L.A.'s brightest clubs featuring some of the best world-known comedians. We recommend Largo at the Coronet, The Comedy Store in Hollywood and The Ice House Comedy Club.
See the sand. Head to Leo Carillo, Santa Monica or El Matador Beach for a run, hike or swim. According to Cole, these are good third-date activities that give way to "love maps," a way of building knowledge of your date's inner world. Ask questions and listen carefully to what the object of your affection reveals. The beach is a great place to discover inhibitions– and if she can handle a little sand in that sandwich. Hint: if foxy squeals and runs from waves, you may want to pack up the picnic. Just sayin.'
Stay put. Cook for your date at your place (just make sure your ex has the kids). You'll discover the whole enchilada regarding table manners and habits. Does he wait for you to sit down? Does he chew with his mouth full? Offer to help with the dishes? Solicit a service like Paleta, Blue Apron or Two Peas Inc. to help with the menu planning and ingredients because, let's face it, you'll be too busy locating the utensils you need!
Slow it down. Meander through Descanso Gardens or the Huntington Library, or take a stroll through a new exhibition at LACMA or the Geffen Contemporary. Discover each other's design and art appreciation – or lack thereof – and find out about each other's favorite artists, books, venues and travels. "When discussing works of art, talk about your favorite songs, too," advises Cole. "This is a good way to find out what genres appeal to [your date] and how he relates the lyrics to his life."
Shop together. Farmer's Market, the Rose Bowl Flea Market, the shops on Larchmont Boulevard and other fun outdoor shopping destinations offer insight into a person's spending style. For instance, if you just crawled out of a base model Chevrolet Sonic and your date's dropping six grand on a timepiece, you may have to watch the money habits. Better yet, see this situation as you would a full-priced sweater at Barneys and tell yourself you're not buying it!
Dive into a historical tour. No matter how long you've lived in L.A., there's always something you haven't seen. Take your date to the Gamble House, the Bradbury Building, Greystone Park & Mansion or Angel's Flight Railway. Visiting these places together will surely strike up conversation about history and architecture. See if you're interested in each other's observations. Those frothy coffee-house chit chats may just move into hotter conversations.