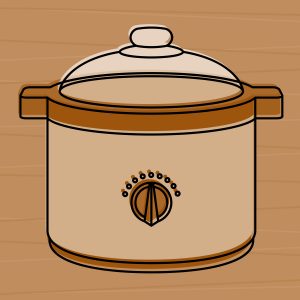 That one Crock-Pot.
Didn't take long for us to know.
It's a one way ticket to a one pot show.
It'll come alive tonight. It'll keep on crockin'.
Ain't never gonna stop.
Just keep on crockin',
and take it right on to the top.
Be a Crock. Pot. Hero.
(Got stars in your eyes)
Recipes by Mary Jackson-Cory
Slow Cooked Pork with Rice and Steamed Vegetables (10 minute prep time, 12-16 hour cook time)
Pork Butt Roast 7 – 13 lbs (Yes, we said butt roast. Ask for it, heh heh.)
7 – 10 cloves of garlic
4- 5 pieces of bacon
Sea salt
Crock pot
Cooking time 12 – 16 hours
White rice or brown rice
Steamed broccoli, cauliflower
Directions: Slice butt roast in half, but not all the way through. Make a series of slits in the roast large enough in which to place the garlic cloves. Salt the roast liberally. Lay the bacon on the bottom of the Crock-Pot and then place the seasoned butt roast on top of the bacon, fat side up. Cook on low for 12 – 16 hours. After 12 hours minimum, drain off the fat and then let the roast continue to crisp. At the end of the crisping process, steam some rice and veggies as accompaniments.
Crock-Pot Tortilla Chicken Soup (10 minute prep time, 8 hour cook time)
Raw chicken (1 lb)
32 oz chicken broth
1 can black beans, rinsed
1 can pinto beans, rinsed
1 packet taco seasoning (Trader Joe's has a good one with no chemicals)
1 can diced tomatoes with green chiles
1 can corn
8 corn tortillas (fried to be added at the end)
Cilantro, chopped for garnish
Greek yogurt, tbsp per person
Directions: Make this soup in the morning before work. Yes, get up a little earlier and BAM!  You'll a have meal waiting for you with just a little prep ready to go when you get home. Chop the chicken into bite sized pieces. Add all other ingredients except tortillas and cilantro into a Crock- Pot and place on low for eight hours. About twenty minutes before eating, cut tortillas into strips. Fry them in oil for crispness and mix them into soup. Chop up cilantro for garnish and add a tbsp of greek yogurt.