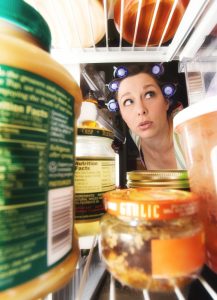 The solo parent can have a love/hate relationship with the fridge. It's understandable. One day it's full to bursting with food that you've made for your banditos. The next week, you open up the fridge and it's a bottle of Worcestershire sauce and a tub of margarine– because you've lost your motivation to cook when the kids are away. 
Some of us are so used to cooking for our family that we don't know how to cook for one person. Making enchiladas or a pot of spaghetti and meatballs seems pointless because we don't want to waste food.  But eating out is too expensive. An entrée and a drink for $20 for one person isn't a "deal" at all. But a solo parent has got to eat, right?    
Here are some tips to navigate the all-or-nothing fridge scenario in the solo parent's kitchen:
Find recipes online or use a cooking-for-one meal plan.

There are several blogs and food-related websites dedicated to cooking for one person. Sites like

Simply Scrumptious

offer awesome recipes and inspiration to cook up a great meal just for yourself.

Set aside a small stash of cash.

You may have one of those nights when the kids are gone, and you're in the mood for a good steak or yummy tacos from the neighborhood food truck. Save a few dollars here and there, and in no time you'll have a stash to tap into for those spur of the moment outings.

When grocery shopping, buy your own stash of snacks and other food items; make them off-limits to the kids (and yourself while they're home.)

This will keep you covered when you have a hankering for a snack while the kids are gone.

Grab a few frozen meals from the store.

You'll find several tasty varieties at your local grocery store, including some health-conscious or organic choices. Frozen meals are convenient and quick, add a healthy salad, or some fresh fruit, and you're good.

Freeze Leftovers. So you made those amazing enchiladas last night– freeze what you haven't eaten immediately so that they don't get forgotten in the back of the fridge.
It's no secret that managing food in your household is a juggling act, especially when you're running the show by yourself. Sometimes the most challenging part of following a structured plan is maintaining the routine. Things come up, and can make getting off track look tempting. The big downfall – it's hard to get back on the wagon. To keep yourself on target, do this:
Got a  meal plan?

It'll help you stay disciplined and dedicated to the routine – whether the kids are home or away.

Build your cooking-for-one days into your meal plan.

The best way to be prepared for your days at home without the kids is to plan for it.

Don't dip into the kids' stash, even if you can replace it right away.

It's super tempting, but don't do it. Your wallet and your waistline will thank you later.

Meet up with friends or go to an event while kids are away; eat while you're out.  

With the kids having an overnight stay at the other parent's house, at Grandma's, it's the perfect time to hang out with friends and to eat out.

Plan a nice dinner for yourself – one that you wouldn't normally cook for the family (because it's too costly or the kids don't like it).

Fresh salmon, lamb, or mussels can be very pricey if you're buying for the whole family. But it's perfectly affordable when you're buying it just for yourself. Enjoy this solo time with your favorite meal.

Have a Potluck.

Invite other solo parents you know over to your house. Everyone can bring a dish– even food cooked earlier in the week. It's not only budget-friendly, but it requires little effort, and ensures prepared food won't go to waste.

Get the kids to pitch in when they're home.

Your kids might want to help even more knowing that you'll be eating the food they've prepared when they are away.
Whether your time apart from the kids is a weekly occurrence or only happens a few times a year, you can rock that kitchen like a pro. In fact, your success will just be more proof that you rock as a Solo Parent!