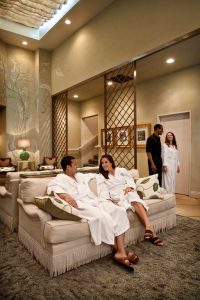 As I walk down the dirty alley towards the double glass doors, I know that paradise awaits. I've been here before. I come here when I hurt, body or soul. I come here to celebrate my birthday, a gift to myself. I come here, at times, when all is lost on the inside, and the only place I can conceive of going is far, far away. I'm at Burke Williams Spa, and it feels like a slice of heaven.
My first time here was three weeks after I had decided to leave my husband. It was my birthday, and I was lost and without much to call hope.
My naked body had also not been touched in over three years.
My massage therapist seemed to intuit my state, and gently altered my spirit with his touch. He allowed me to breathe, and with the breath came the tears and he just kept massaging me through it. I felt completely safe and all the proper boundaries were firmly in place, but he knew…and he did his job, far beyond just working out the kinks in my neck.
Since then I have come here with body aches and injuries, for soothing and for serious deep tissue work.
Today, I am just tired. The week has been long, my solo parenting stretching me to my outer limits. My mind is a jumbled confused mess of work ideas not yet fully formed and I know that escape is near. And for me, escape often means clarity–moving my jumbled mind away from working into a place of serenity and deep surrender allows my brain to stop trying so damn hard, and that's usually where the magic happens. So here I go…
As I walk in, the smell of lavender and gardenia, the sound of water raining down the giant waterfall-wall, and the dim lighting immediately relax every muscle. Sense-memory strikes and I am ready for my bliss.
Burke Williams is a California based chain of luxury day-spas. Each location is unique, but all of them include signature Burke Williams amenities, such as access to their hot tub, sauna, steam rooms, mist rooms and showers before and after treatments, as well as their exclusive skin care line, H2V.
Having a go-to place that you love and know to be your serenity-sanctuary can be vital to getting through this solo parenting gig. It doesn't have to be fancy, it doesn't have to be expensive, and you don't have to go often. But find your place that will melt it all away when you need it most.
How to choose a spa? How to get a great massage?
Clean, comfortable, professional, good reviews–all necessary ingredients in your spa search. Word of mouth is always a good idea. Ask your BFF, your trainer, your doctor even, who to go to for good body work.
When you call, tell the receptionist what you're looking for. You can say, "I'm new at this and want to be really comfortable with the person who is working on me." Or you can say, "I have an injury and I need a practitioner who really knows what they're doing." Let the person booking you know what YOU want up front. If they run a good spa, they will know who to match you with. You should mention whether you prefer a male or female practitioner.
Tell your massage therapist what you want–before and during the massage. This is not about someone guessing what might feel good to you. It's about you paying to get what you want! You can be diplomatic, of course, and can say things like: "I'm under a lot of stress and I want to just drift off." Or, "I'd really like a little more work on this part [of my body]." Or, "That pressure is too intense, can you ease up a little?"
If at ANY TIME you are uncomfortable during a massage, you end the session. These are professionals who need feedback as much as you need to get what you pay for. Inappropriate touching, draping of sheets that is uncomfortable, even a vibe that feels strange– all reasons to end a session if you feel it cannot be addressed with a word or two. The front desk should be alerted, and a decent spa will offer compensation.