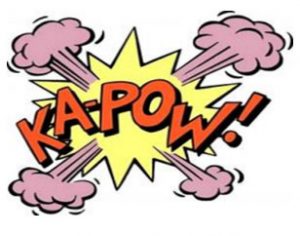 Want to sleep tonight? Want to quit fretting and losing hair about the little things that wake you up at 2:30 in the morning? Ask the magic question. It's a simple question, but it packs a serious punch. Ready? Wait for it…
The magic question is this: How important is it?
Write this question at the top of a piece of paper. Then make four sections.
1. Life threatening, crucial, my child's welfare is in question.
Alright. We know what this looks like. Hopefully, this part of the list won't be filled in tonight. As solo parents, we worry about our kids–maybe more than other parents. Many solo parents share co-parenting responsibilities, which means there is a chunk of time when things are out of our control. And it's important to be able to let go of control in situations where we have no control. But if you're worried about things that are affecting your child's welfare: bullying at school, sudden changes in behavior, loss of appetite, or a creeping feeling that something isn't right, write down a list of people you can call tomorrow. List their phone numbers and when you plan to call them. You can even write down the questions you have, what answers you want to hear.
2. Blanket Unease.
That's the feeling that covers you like a fog. How important is it? Try to identify the specifics of the unease. Write the list on your sheet, along with phone numbers and resources that can give you some relief. An attitude adjustment on our end can go a long way to bring ease to a situation. Let's say our kid is talking back. How important is it? How do we react? Be aware that when we're hungry, angry, lonely or tired (HALT) we're not able to react optimally. That goes for our kids too. Are we listening to them? Taking their problems and concerns seriously? How do we get in the proper head space for that? Are we taking enough time for ourselves? Write it all down on your list.
3. Stuff We Can't Control.
We can't control the fact that our ex gives our kid chocolate for breakfast. Or that our kids come home from a weekend away looking unkempt and spaced out from too much screen time. We can make notes of this. We can request changes. How important is it? In the long run it might be a cross for your kid to bear, but how likely is that? Do we have a spiritual practice to help us put the things we can't control into the care of something greater than ourselves? Would that give us ease?
4. Stuff We Can Control.
What we can control is how to care for our children when they are in our care. Are we providing consistency at home? How important is it? Kids thrive on rhythm. We're in charge of the rhythm in our home. List the things that didn't work today, and try to pinpoint what went awry. When did the tantrum occur? Something unexpected happen that caused it, perhaps? How did you react? Kid slam a door in your face? How did you react?
How important is it? Are you breathing enough? Eating enough good stuff? Moving your body? Getting fresh air? Sleep? Are your kids? These things ARE important, because WE are important, and so are our kids!
Now wrap up your list, pat yourself on the back for getting through a day of being an amazing solo parent, and go get some delicious sleep!